Hey munchies! Welcome if you're new, I'm Alyssia, and I'm so happy to have you here. A lot of you have wanted more keto and low
carb recipes, and a lot of you want more bento box recipes,
so we're putting that together and you are getting both right now. These are 3 keto bento boxes, they've got low carb recipes but you don't
have to be on a low carb lifestyle to enjoy them.
The first box is a vegetarian box. I'm starting with a veggie-packed egg salad! I separate the yolks and whites of boiled
eggs, and add the yolks, mash, and then add some homemade mayo— which I showed in my keto meal prep vid as
well as on my Insta story a few times. Then add mustard and mix. Then I can add my chopped boiled whites, red
bell pepper, broccoli rice, mushrooms, chopped celery, and salt & pep and mix! Season to taste.
Egg salad is a great low carb addition to
any meal or even as a snack. I love eggs paired with avocado, so next is
a simple avocado tomato salad! I combine halved heirloom tomatoes, with avocado
cubes, lime juice and salt. That's it! Of course for prepping purposes, I recommend
adding the avocado the morning you're going to eat this or
even at the time of eating. The creamy avocado with the sweet and tangy
tomatoes are SO delicious, yet so simple. How about some…bacon?? Wait, vegetarian BACON!? We're doin' it! Vegans and vegetarians can do low carb with
soy— but go for a fermented soy product like tempeh
for added health benefits. In a bowl, whisk together soy sauce or coconut
aminos, hot sauce, and some liquid smoke. Now, this is NOT optional if you want to have that bacon-y flavor, but
it is still tasty without it, it just won't taste as much like bacon! Add cumin and salt & pep.
Slice your tempeh super thin, and add the
tempeh to the saucy mixture and soak for just a few minutes. Heat some oil in a pan and add the tempeh
strips, cooking 1-2 minutes on each side over high
heat, until crisp and browned! Transfer to a paper towel to cool, and then
add salt if needed. Cut into bacon bits! This is great as is, but why not add it to
that avocado tomato salad or the egg salad!? So, remember, all of these recipes are lower
in carbohydrates, but they won't necessarily get you into
ketosis, and it's your responsibility to do research
before beginning a ketogenic diet to make sure you know how it works. I do have a keto 101 video if you want to
check it out In the next compartment I have a peach… Say what?!? I know, not generally a fruit in the low carb
community, but did you know that 1 small peach or a half
of a larger one has only about 4 grams of net carbs? Some people totally have the carb tolerance
for that and will remain in ketosis! It's nice to switch it up.
Last but not least, coconut chips! I add them to a tray and toast them in the
oven for just a few quick minutes, They will brown quickly! They become a delicious and naturally sweet
treat, no sugar or sweetener needed! Who knew a vegetarian low carb box could be
so fun!? Remember, I am just using this bento box for
presentation purposes— you can of course store your meals however
you want. The next box is a clean low carb box.
A lot of people think low carb or keto means
a ton of dairy, but it doesn't have to! These are all dairy free! First up, Thai lettuce wraps! These are from my new Low Carb eBook, which
is filled with meal preppable low carb recipes. I also have a separate vegetarian meal prep
ebook too, over 35 recipes in each, and you can get any
eBook or package 10% off this week if you use the code "KETO" at checkout! All are available at mindovermunch.com/ebooks. For the lettuce wraps, I whisk together peanut
butter, chicken or vegetable stock, soy sauce or coconut aminos, lemon juice,
sesame oil, chili paste, and a pinch of cayenne. In a saucepan over medium heat, I add ground
turkey and cook through. Once it's completely cooked, I add the sauce
mixture and simmer over low heat for 15 minutes, until the liquid is reduced
and the sauce has thickened. Then I can remove it from the heat and finish
it off with some cilantro and peanuts. I like to serve this in lettuce wraps, but
it's delicious and perfectly acceptable to just go at it with a spoon! Time to get our veggies in! Next I have Brussels sprouts… chips! Now, I am not a HUGE Brussels sprouts fan,
but I will not turn down a chip! I won't, it's true! I won't turn down a chip.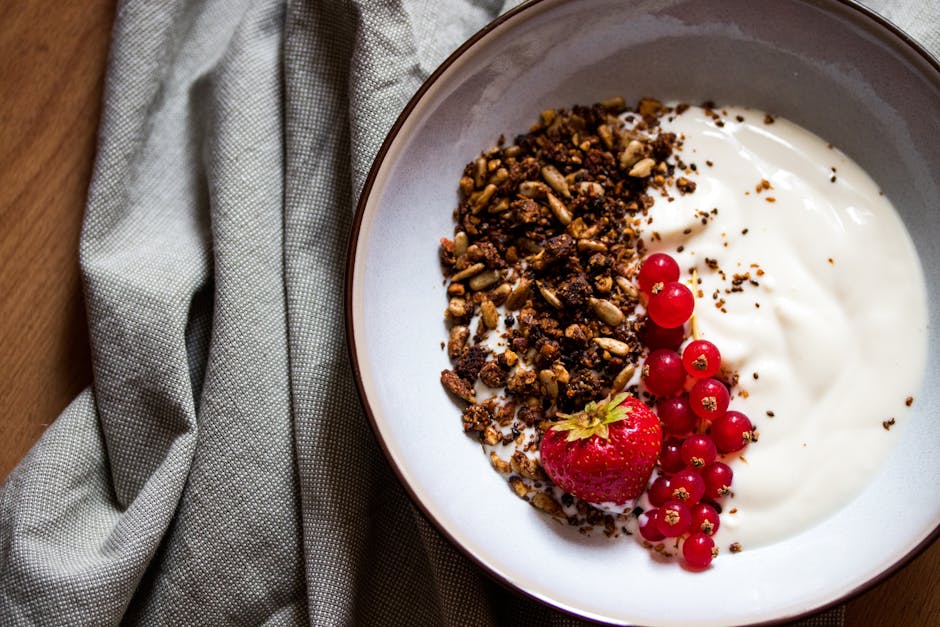 Start with the leaves of the Brussels sprouts,
and add them to a bowl with a drizzle of oil and salt. Toss together and transfer to a baking rack
on a pan lined with foil and sprayed. Bake until crispy! BOOM! That is my kind of vegetable! A lot of people think low carb and keto has
to mean NO fruit, but it doesn't! Some people can tolerate more than others,
but it can still be incorporated if you want it. Raspberries and strawberries are 2 of the
fruits lowest in carbohydrates! The next compartment is filled with pecans
and macadamia nuts, 2 of the most easily accessible nuts, lowest
in net carbs.
Finally, a sweet treat: no-bake coconut bars! Mix together coconut shreds, coconut oil,
a liquid sweetener of your choice— I am using a clear fiber syrup but you can
use whatever you prefer— vanilla extract and a pinch of salt. Pour into a pan lined with foil and press
with damp hands. Freeze until firm, and then you can thaw slightly
and cut into bars. These are addicting so make sure you only
pack what you want to let yourself eat! The last box is pretty nifty, interactive and veggie-filled— let's make healthy food fun! First we've got some buffalo chicken celery
boats. Start with cooked and shredded chicken. Now remember, you don't need to use the breast
if you don't want because fat is NEEDED on a keto diet.
Use whatever you have, but don't be afraid of legs or thighs—plus
they'll take you to flavor town! Add buffalo wing sauce, green onions, and
salt & pep to taste. Mix together, and then add to your celery
sticks! Vegetable vessels make eating healthy much
more enticing, don't you think!? Thumbs up for creative ways to incorporate
vegetables! Yeah, you like that!? Well I've got another veggie packing trick
for you: add them to your guac! I mash an avocado, and then add lime zest, lime juice, finely diced broccoli florets,
shallot, chives, and salt & pep.
They add texture and flavor but avocado is
still your number 1! Hon, does this make me look… fat?? Get even more veggies in by using them as
dippers! Radishes pair well in flavor, and they can
totally be used as a firm chip! The next compartment is actually a fruit in
disguise: olives! Olives are exceptionally low in carbohydrates
and are a source of healthy fat! A perfect keto snack. Last but not least, we're getting even more
veggies in with some VEGGIE-PACKED ENERGY BALLS! Whisk together coconut flour, sweetener of
choice, cinnamon, and salt.
Add in some mashed sweet potato, vanilla extract,
and water. It should stick together when pressed. And then you can throw in some grated zucchini
and carrots. Refrigerate the mixture for about 15 minutes
before rolling into balls. Think carrot cake, kicked up a notch! These are sure to satisfy that palate transition
we're looking for after all of that savory goodness. And those are 3 keto friendly bento box ideas! Remember, I encourage you to get creative—take
these and make them your own! Take what you want, leave what you don't,
these are just here as healthy inspiration and can work into lifestyles that aren't
low carb, too! I have an entire BIG BENTO eBook as well that
has all of my bento recipes from my bento series we did last year, and
that is available on mindovermunch.com in addition to my new Meal Prep recipe eBooks.
And, again, for that discount, you can use
the code KETO this week only. YOU GUYS! Last week I announced that I have gotten together
with my friend Sara Lynn from The Domestic Geek, you've
seen us collab many times— we have started a NEW CHANNEL together for
our brand new series called Friday Night Supper Club. We get together on a Friday night, make a challenging recipe, have some drinks,
have some fun, and every Friday a video goes up on that
channel. In my description, you'll find a link to subscribe and all
the information you need. I hope you'll go check it out and let me
know what you think! Also, a lot of you know we've done bento
box videos for a few years now and I want to know: Do you prefer them when they are to music,
like our older ones, or narrated by me, like in this video here? Please answer the poll to this video to let
me know! I hope you enjoyed, I'll see you next week,
and remember, it's all a matter of Mind Over Munch.